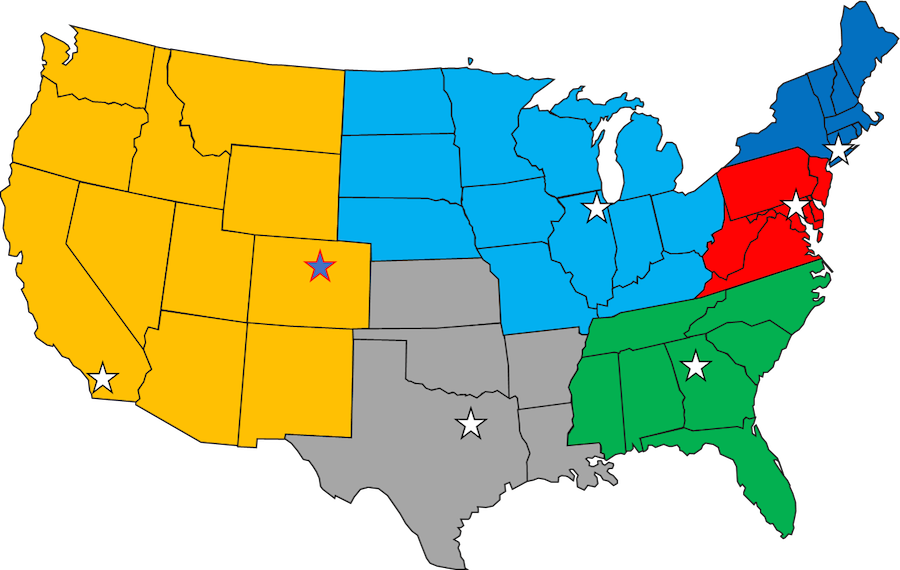 Regional Qualifiers for 2018 World Series of Youth Lacrosse Announced
The World Series of Youth Lacrosse has officially opened registration for its 2018 Regional Qualifiers. The 4 th annual WSYL competition is open to all 13-U boys teams both across the United States and internationally.  All eligible U.S. teams are invited  to participate in a one of several Regional Qualifiers for a chance to earn a bid to the Championship Series, which takes place in Denver, CO over the 4 th of July weekend. Top teams from each qualifier will be invited to Denver, where they will compete against the very best teams from across the country and abroad for the ultimate goal of becoming a World Champion.  The World Series of Youth Lacrosse is a once-in-a-lifetime experience unlike any other in youth lacrosse, with the finals of the Championship Series being broadcast live by ESPN2 on July 4 th, 2018. 
The locations for the qualifiers and eligible states are as follows:
-South: December 16-17 in Atlanta, GA
-States: Alabama, Florida, Georgia, Mississippi, North Carolina, South Carolina, and Tennessee
-Central: January 13-14 in Dallas, TX to participate
                -States: Arkansas, Kansas, Louisiana, Oklahoma, and Texas
-West: February 17-18 in Irvine, CA
-States: Alaska, Arizona, California, Colorado, Hawaii, Idaho, Montana, Nevada, New Mexico, Oregon, Utah, Washington, and Wyoming
-East: April 7-8 in Bel Air, MD
-States: Delaware, District of Columbia, Maryland, New Jersey, Pennsylvania, Virginia, and West Virginia
-North: April 7-8 in Nassau County, NY
-States: Connecticut, Maine, Massachusetts, New Hampshire, New York, Rhode Island, and Vermont
-Midwest: April 7-8 in Chicago, IL
-States: Illinois, Indiana, Iowa, Kentucky, Michigan, Minnesota, Missouri, Nebraska, North Dakota, Ohio, South Dakota, and Wisconsin
To find out more about the WSYL and to register eligible teams for a Regional Qualifier, visit  www.worldseriesofyouthlacrosse.com, or email us a info@wsylax.com. Registration for the Regional Qualifiers is now open, but spaces are limited and will be accepted on a first come basis. International teams may be nominated through the WSYL website. Be sure to register for your qualifier early for your chance to be included in the upcoming release of the WSYL / Inside Lacrosse 13U World Rankings, which will be posted in Inside Lacrosse in the upcoming Fall issue. Only registered teams will be eligible for rankings.
About the WSYL  
The World Series of Youth Lacrosse was created in 2015 to provide the ultimate lacrosse experience for young athletes. The WSYL was founded by Jake Steinfeld, founder of Major League Lacrosse, along with his partners Ray Schulmeyer, Steve Bornstein, Dave Morrow, and Mac Freeman.  Teams in the US advance to the WSYL Championship Series in Denver through a series of regional qualifier throughout the country.  In addition, a select group of international teams receive invitations to compete in the Championship Series which culminates in the WSYL Championship Game on the Fourth of July where the winning team gets to hoist the Warrior World Series of Youth Lacrosse Championship Trophy. The events are made possible through strategic partnerships which include The Coca-Cola Company, Nissan, Warrior, MET-Rx, Midas, Wheels-Up and the Denver Outlaws.